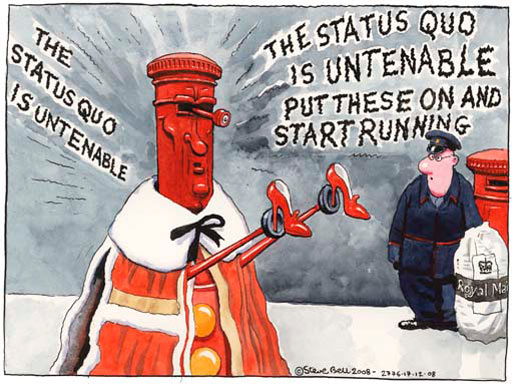 I agree with this
article
about threats to part-privatise Royal Mail, by Gregor Gall in the Guardian. In the
Western Mail
Adam Price says:
"These proposals are ludicrous, and could lead to the loss of thousands of jobs at mail centres...Many of the problems currently faced by Royal Mail have arisen solely because of previous attempts at liberalisation and privatisation."
The Royal Mail has served us well as a viable public service for almost two hundred years. Why is it not viable now?
The
Communication Workers Union
fears that 50,000 jobs could be at risk if the part-privatisation goes ahead. Meanwhile, Royal Mail's Chief Executive took home a
£3 million pay packet
last year, despite being responsible for missed targets.
In 2005 Labour's election manifesto said of the Royal Mail that they had "no plans to privatise it". By keeping 51% of the shares, they can stay within this pledge. But will people believe them next time?
(
Image copyright by Steve Bell
)